FRIENDSHIP CONFERENCE
22nd Annual Low German Friendship Conference
August 4th -6th, 2017
Hausbarn Heritage Park, Manning Iowa

Welcome to Manning's Hausbarn Heritage Park
Brought over from Germany and assembled here in Manning in 1996, the German Hausbarn is the pride and joy of the Manning Community Foundation. The Hausbarn is a unique structure in that it consists of living quarters not only for the family, but also areas for housing livestock, farm equipment and feed.  Everything under one roof! Hausbarns were a common form of dwelling throughout several areas of Germany, especially in Schleswig-Holstein and the northwest part of Germany. Many of the residents of Manning are descendants from this area.
The Hausbarn at Manning's Hausbarn-Heritage Park was originally built in 1660. Due to many years of political conflict and boundary changes in Europe, it can boast it stood in Austria, Prussia, Denmark and of course, Germany, before it was dismantled and sent to Manning, Iowa. It is evident from just one glance that the Hausbarn reflects a collective community pride and conveys Manning's overall commitment to preserve a vivid understanding of its' German Heritage.
The Low German Friendship Conference
Since 1995, the German-American Low German Friendship Conference has taken place alternately in the Midwest of the United States and in the federal state of Schleswig-Holstein. The name of the conference expresses the common heritage and Low-German language as important parts of the bond of friendship between northern Germany and the descendants of immigrants from northern Germany living in the United States. The American Schleswig-Holstein Heritage Society is an association of the descendants of Schleswig-Holstein immigrants. Carroll County, Iowa is one of three counties in Iowa with the largest number of German immigrants.
This year's conference returns to Manning, Iowa, having last been held at this location in 2003.
Conference Schedule
Friday, Aug. 4
5:00 p.m.
Welcome and social time
Folk Dancers and Singers
Omaha German-American Society
6:00 p.m.
Dinner
Play: "Here, I'm Hank", the immigration story of Hank, from Husum, Schleswig-Holstein to Iowa
Saturday, August 5
8:00: Coffee and Rolls
8:30: Opening Comments, Welcome of Special Guests
9:00: Maintaining Old Lives in a New Land."   Dr. Paul Riedesel
A century or two after they came to America, it is common to assume that our German ancestors were looking to build "new lives" for themselves. While it was a new world for them in many respects, they did what they could to sustain the ways of living they had known before. Their churches provided much of that continuity. In this presentation Dr. Paul Riedesel will review the extraordinary multi-generational chain of migration from a remote area in Germany to a small community in Clinton County, Iowa that illustrates that struggle between the old and the new.
Dr. Paul Riedesel is fourth-generation German-American with connections to both Carroll County and Clinton County. He has conducted research and writing on the Riedesels in America and related families for more than 40 years, and has published extensively in their historical magazine.
10:00:  "Gentlemen Bootleggers: The True Story of Templeton Rye, Prohibition, and a Small Town in Cahoots", Bryce Bauer, author
During Prohibition, while Al Capone was rising to worldwide prominence as Public Enemy Number One, the townspeople of rural Templeton, Iowa—population just 428—were busy with a bootlegging empire of their own. Led by Joe Irlbeck, the whip-smart and gregarious son of a German immigrant, the outfit of German immigrant farmers, small merchants, and even the church Monsignor worked together to create a whiskey so excellent it was ordered by name: Templeton rye.
Author, Bryce Bauer, tells a never-before-told tale of ingenuity, bootstrapping, and perseverance in one small town, showcasing a group of German immigrants who embraced the American ideals of self-reliance, dynamism, and democratic justice. It relies on previously classified Prohibition Bureau investigation files, federal court case files, extensive newspaper archive research, and a recently disclosed interview with kingpin Joe Irlbeck. Unlike other Prohibition-era tales of big-city gangsters, it provides an important reminder that bootlegging wasn't only about glory and riches, but could be in the service of a higher goal: producing the best whiskey money could buy.
Templeton Rye Today: Keith Kerkhoff,
Keith Kerkhoff, is a graduate of Buena Vista University in Storm Lake, Iowa. While visiting home during his college years, Keith's grandfather Alphons took him to the secret location of the illegal and infamous Templeton still, and showed him how to "set the mash," .Keeping his word to his grandfather, Keith told no one of the secret foray for decades, until the opportunity came to resurrect the process legally in the early 2000's. With a golden shovel, Keith joined the mayor, Ken Behrens, in breaking ground on Templeton Distillery. Templeton Rye's newly upgraded home consists of a 34,500-square-foot distillery at its current 20-acre facility on the edge of the town. The new distillery complex, including a museum and 55,000-square-foot barrel aging warehouse, will be able to produce 500,000 proof gallons of rye whiskey annually, but initial production will be 250,000 gallons. The aging warehouse will be able to store 40,000 barrels.
Cathedrals in the Cornfield: Marilyn Setzler
12:00 Lunch:
1:00 – 5:00 "Cathedrals in the Cornfield bus tour"
5:00 Catholic Mass at Holy Angels Church in Roselle, (for Catholic Conference participants)
7:00 Dinner
Alternative Saturday pm Activity: Glidden Sesquicentennial Celebration, Glidden, Iowa (provide own transportation to and from Glidden)
Sunday, August 6,
8:30 Coffee and Rolls
9:00 "Moving the Church", a national geographic video of the moving of Trinity Lutheran Chruch to Heritage Park in Manning, Iowa
10:00 German Church Service in the Trinity (Dreieinigkeits) Lutheran Church (English translation available)
11:30: Lunch
1:00: Closing Comments and Thank You!
Aug: 7-10 On to Des Moines'
(for those desiring to continue their stay visiting Des Moines and the Iowa State Fair)
On Monday through Wednesday, activities include visiting Living History Farm (an open air museum in Urbandale, Iowa), an Iowa Cubs Baseball Game, the State Capitol and Historical museum complex, the Iowa State Fair parade (Wednesday night) and the opening day of the Iowa State Fair on Thursday.
Hotel Information:
Boulders Inn & Suites Manning, Iowa
Boulders Inn & Suites in Manning, Iowa merges quality with beautiful rural surroundings, Boulders Inn & Suites offers comfort and convenience, located next to the German Hausbarn. During your stay, enjoy free access to the Manning Recreation Center which features an indoor pool, gym and work out facilities. Book early to assure of lodging next to the Konferenz Center
120 Heritage Drive
Manning, Iowa 51455
Tel: 712-655-4000
Toll Free: 844-655-464
Fax: 712-655-4010
Email:  info@bouldersinnmanning.com
Carrollton Inn: Carroll, Iowa
Rooms: Make yourself at home in one of the 86 air-conditioned rooms featuring refrigerators and microwaves. Flat-screen televisions with premium TV channels are provided, while complimentary wireless Internet access keeps you connected. Bathrooms have bathtubs or showers and hair dryers. Conveniences include coffee/tea makers and irons/ironing boards, as well as phones with free local calls.
Amenities: Enjoy recreational amenities such as an indoor pool and a fitness center.
1730 HWY 71 North, Carroll, IA 51401 US
Reservations: 800-486-3878
Days Inn, Carroll, Iowa
The Days Inn Carroll Hotel is located at the western edge of Carroll, Iowa. Get a sunny start in the morning with free Daybreak continental breakfast and catch up on email with free Wi-Fi Internet access. Swim in our indoor heated pool, soak in our whirlpool or enjoy a free workout at a nearby fitness facility. Our non-smoking hotel offers free parking and flat-screen TVs in all rooms. Handicapped-accessible accommodations are available.
127 Highway 30, Carroll, IA 51401 US
Phone: 1-712-792-9404
Fax: 1-712-792-8349
Super 8 Carroll North, Carroll Iowa
Make yourself at home in one of the 30 guestrooms featuring refrigerators and microwaves. Complimentary wireless Internet access keeps you connected, and cable programming is available for your entertainment. Conveniences include desks and coffee/tea makers.
Make use of convenient amenities such as complimentary wireless Internet access, a picnic area, and complimentary use of a nearby fitness facility. A complimentary continental breakfast is served daily.
1757 Hwy 71 N, Carroll, IA 51401 US
Reservations: 800-486-3878
Campground, with hook-ups, available at Conference Center $12:00 per night
---
Dreieinigkeit Kirche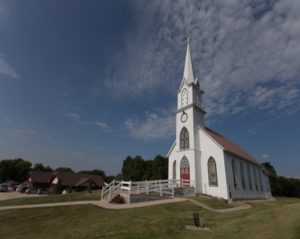 The congregation of the "Dreieinigkeit" or Trinity Lutheran church organized in 1884, when a predominantly northern German group of immigrants came to Iowa, settling in the area surrounding Manning. They constructed and dedicated their first church in 1884. The church was quickly outgrown and rebuilt in 1901. This building served the congregation until the church and its contents were destroyed by a tornado in March 1913.The congregation immediately began rebuilding their church. The church was and dedicated in October 1913. That is the beautiful structure that still stands tall today in the Manning Hausbarn-Heritage Park. Because of a decline of the rural population and in the economy, the congregation of Trinity Lutheran realized they could no longer continue as a congregation. In 2004, they decided to close the church after marking its 125th anniversary in 2006. Rather than see the rural church sold or dismantled, an agreement was reached with the Manning Community Foundation to move the church to the Hausbarn-Heritage Park where it continues to remind the community of its German Heritage.